Take a look inside the Live Day Trading Room and see what happened this morning! All you need to do is look below, you will see an EXACT, unedited screen capture of members comments which were posted directly to the questions box in the room this morning…
Below you will see undeniable facts regarding what happens inside our Live Day Trading Room.  If you were not in the room this morning, then you can see what you missed below – this is what happens in the room on a daily basis, over the last 14 years right here!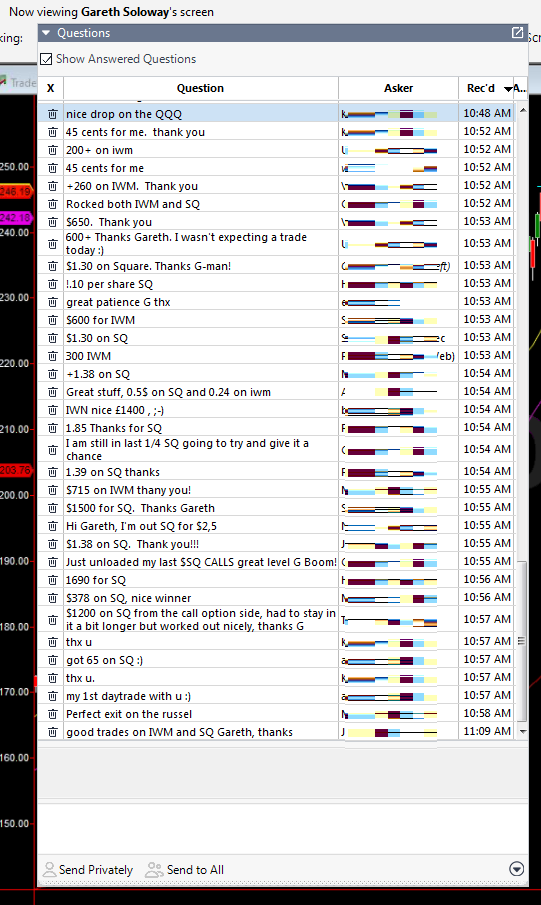 (These comments are an unedited, exact image of the chat box where members post their comments to the Pros directly, only names protected for privacy)
LIVE DAY TRADING ROOM… WHAT YOU GET: When you step inside our Live Day Trading Room you are granted access to look right over the virtual shoulder of the Pros as they scan charts, buying and selling stocks live, right in front of your eyes! You will see their charts as they trade, hear them over your speakers as they guide you to enter trades, buy, sell exactly when they do and you can type in your questions directly to them, live! If you are serious about making more money in an hour than most people do all week… enter the room now.
(nothing is left out, EVERY trade you see in the track record was bought and sold live, in the same day, right in front of members eyes!)