There is no better way to take a look inside our Live Day Trading Room (the place where you can join Gareth and Nick live, as they day trade stocks right in front of your eyes) then taking a look at the questions/comments box from the room today. Once you see what REAL people just like you have to say, then look at the second factor that confirms even further that our Pros are the best you will EVER find… the VERIFIED track record of every single trade taken in the room!
THIS IS FACTUAL, UNDENIABLE INFO YOU ARE ABOUT TO SEE, NO BULL$HIT…
LIVE DAY TRADING ROOM… WHAT YOU GET WHEN YOU STEP INSIDE:

When you enter our Live Day Trading Room you are granted access to look right over the virtual shoulder of the Pros as they scan charts, buying and selling stocks live, right in front of your eyes! You will see their charts as they trade, hear them over your speakers as they guide you to enter trades, buy, sell exactly when they do. You also have the ability to type in your questions directly to them, live! If you are serious about making more money in an hour than most people do all week… enter the room now.
Below you will see undeniable facts regarding what happens inside our Live Day Trading Room.  This morning the Gman, did what he does best… alerted members to take trades, and made money. You can get an EXACT taste of what members said in the room below by reading their own, unedited comments…
Here is a little taste of the action from today…
(These comments are an unedited, exact image of the chat box where members post their comments to the Pros directly, only names protected for privacy)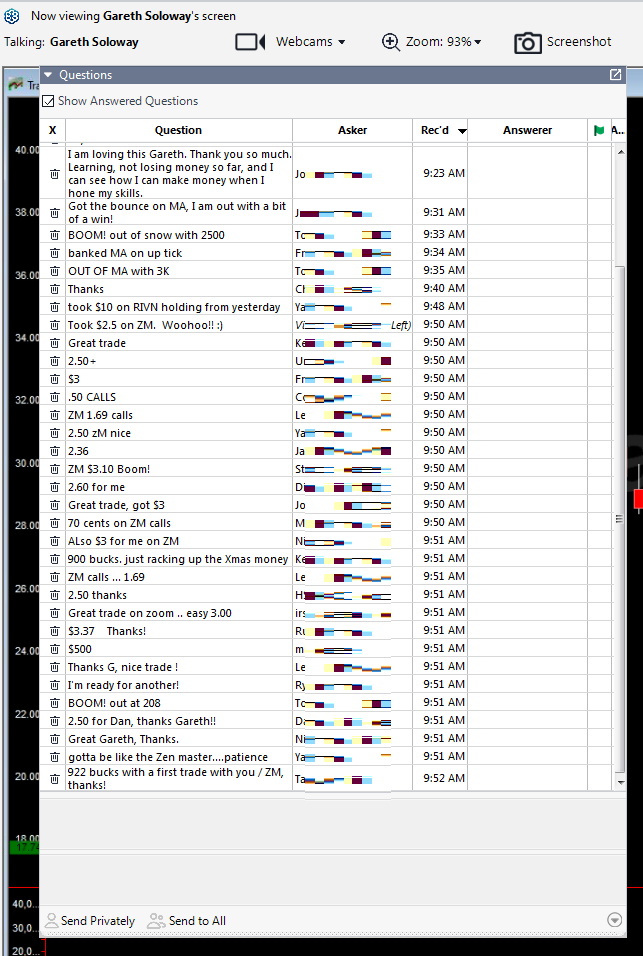 (nothing is left out, EVERY trade you see in the track record was bought and sold live, in the same day, right in front of members eyes!)
CHECK OUT PREVIOUS DAYS ACTION HERE…
Average Score: 5 (4 ratings)
...it's seriously making me think about my day job
Guys, I just want to say that I'm still working my way through all the course material, but between that and this live trading room, I've made more money in the past two months than I have in years. And i'm just doing this as a side hustle…it's seriously making me think about my day job. So just wanted to say a big THANK YOU!
– Kevin W
I just hit $300,000 profits YTD...
I just hit $300,000 profits YTD between your day trading and swings. Thanks for putting out a life changing service! I lose $100,000 last year before I found your service.
– Chat N
Just Wanted to Thank You...
Just wanted to say Thank You Gareth! I absolutely love how you break down the charts. Learning so much just from being a part of this room. Currently taking your Winning Trader Series and it is an absolute Game Changer, can't thank you enough!
-Sharity
Live Day Trading Room Reviews