The Verified Investing Alerts service is the main place for those looking to build wealth like the Pros, from swing trading stocks. Do you have a day job? Don't want to be tied to your computer? Then swing trading stocks with Gareth is how you do it. As you should know, we do not like to waste time talking fluff, instead, we get right to what matters… THE TRADES AND PERFORMANCE!
Take a look at the EXACT trades sold today and what you get inside the Verified Investing Alerts below. Don't miss the action…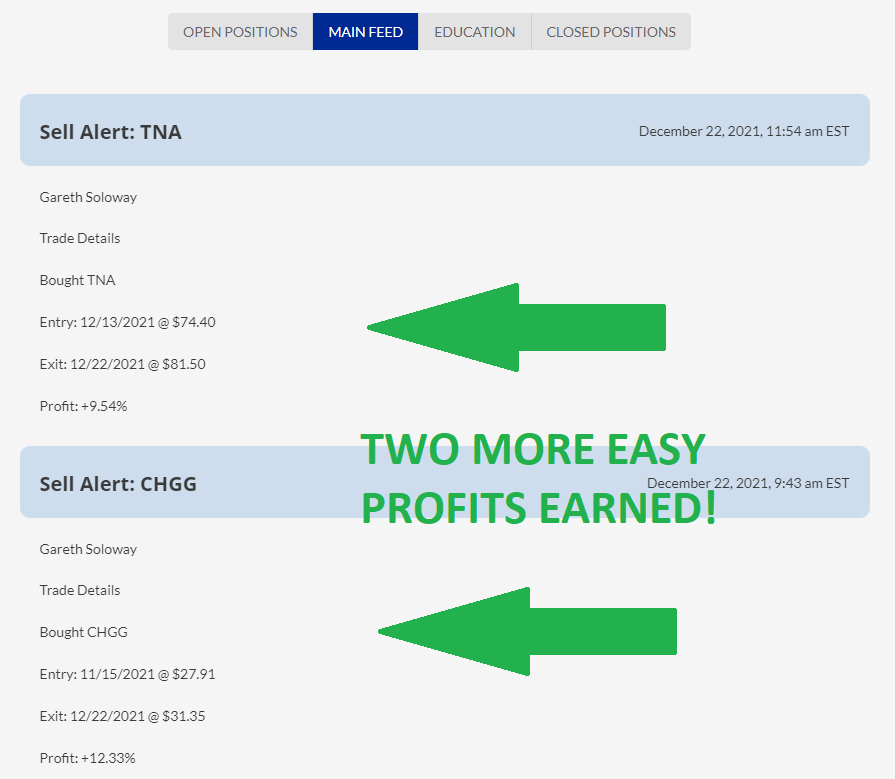 Inside the Verified Investing Alerts service you get…
1) The live, detailed swing trade alerts on stocks as Gareth buys and sells as the action happens (like the trades you see below) sent to you via text/email so you never miss a thing. Do you have a day job, don't want to be tied to your computer… the Verified Investing Alerts is the perfect place for you to position yourself for profit!
2) You will ALSO get daily videos with in-depth analysis every day, packed with education and market insights to keep you on top of all the action.
3) PLUS Sunday night live broadcasts where you can speak with Gareth live and get ready to profit the week ahead!
The facts do the talking and as you can see in the Verified Track Record here, there is no surprise why the last +14 years Gareth has been changing the lives of his members! Enough talk, we are here to make money, all you need to see is the trades and then stop wasting time…
Have any questions for us? Reach out now…
Chat with us live: use the chat box on our website