If you have followed us for any of the last 15 YEARS that we have been running this company, you know one important thing… we don't play games! We don't waste time and we get right down to what matters most… making money!
Just like the verified performance in the track records show you, which you can see yourself, we do not need to talk. Instead, we let the documented performance of our Pros and even more importantly… REAL MEMBERS do the talking for us! Unlike all these fake, wannabe "trader" services out there who call themselves Pros and should never, along with all the fakes/haters out there, our performance talks and REAL members back it up for us – that's a fact! Another important note, as a company, we do not spend ONE PENNY on advertising. We do not run ANY ads, we do not pay for ANY of the interview that you see Gareth on. Instead, smart people know what's up, they recognize who the real Pros are and they learn and earn with the best! That's it!
If you want to see the only real InTheMoneyStocks Reviews that you can trust, look below and we will show you what REAL members have to say. Keep in mind, every comment which can be considered a review that we show you comes direct from mouths of members. In fact, the comments you see below are taken right from the Live Day Trading Room questions box, UNEDITED!… this is the ONLY trusted form of InTheMoneyStocks Reviews you can find!
Enough talk, check this out…
** PLEASE NOTE: The comments you see below are taken directly from our Live Day Trading Room's questions box, where members type their questions in directly to the Pros. What you see below was from THIS MORNING. Yes, only this morning, if you want to see other days, check them out here. The facts are clear, here is your InTheMoneyStocks Reviews right in front of you…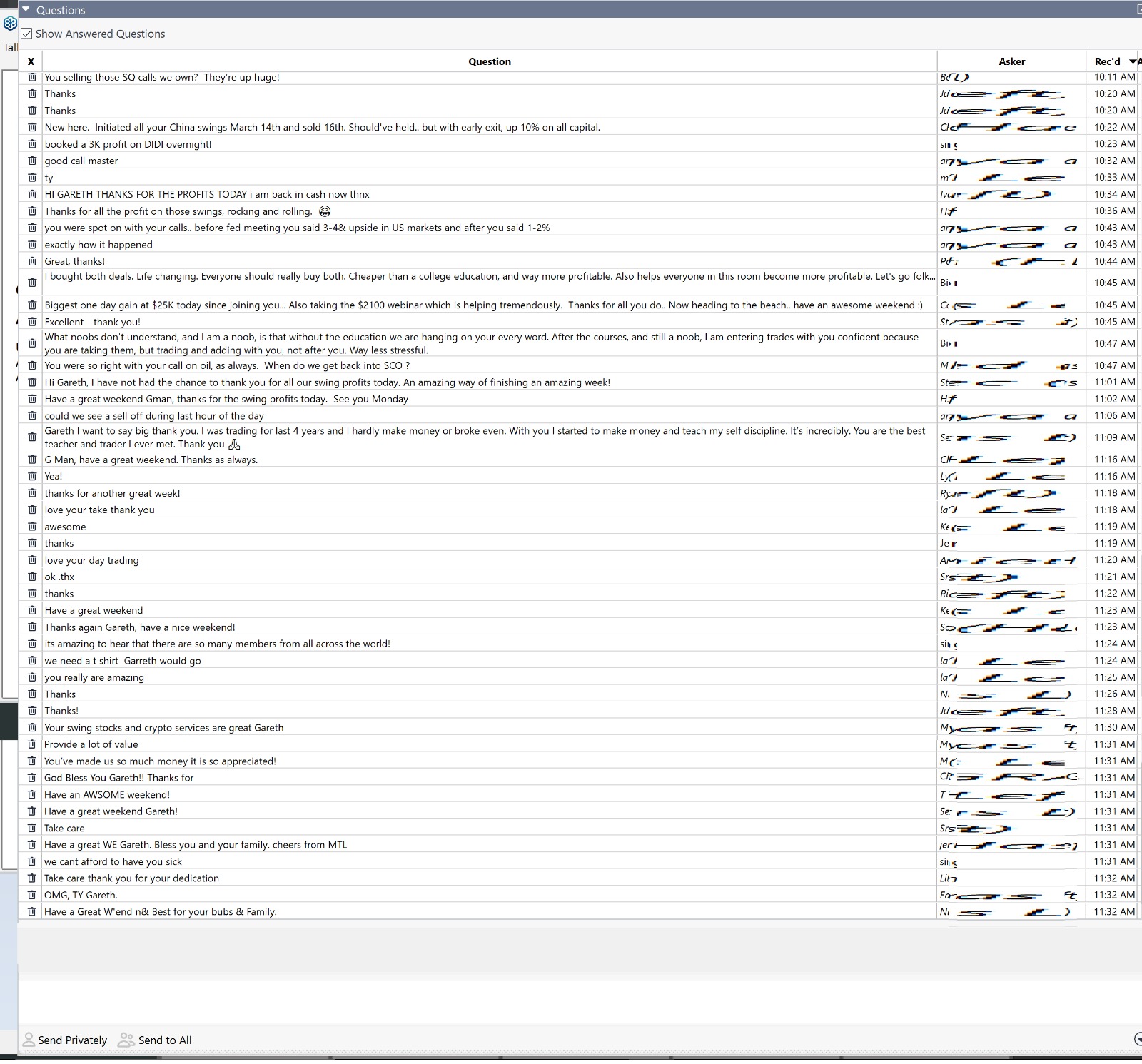 This service is Gareth's main, flagship service for swing trading stocks. Have a day job? Don't want to be tied to your computer? THIS IS IT! Inside the service you get the live, detailed trade alerts like you see below sent to you via text/email. You will also get daily videos with in-depth analysis PLUS Sunday night live broadcasts where you can speak with Gareth live and get ready for the week! This really is the best service for any active investor. Enter now, click here.
When you step inside our Live Day Trading Room you are granted access to look right over the virtual shoulder of the Pros as they scan charts, buying and selling stocks live, right in front of your eyes! You will see their charts as they trade, hear them over your speakers as they guide you to enter trades, buy, sell exactly when they do and you can type in your questions directly to them, live! If you are serious about making more money in an hour than most people do all week… enter the room now.
You want REAL InTheMoneyStocks Reviews?
When it comes to reading reviews of InTheMoneyStocks, it doesn't get better than this! No other review website can be trusted. What you will see below is the ONLY InTheMoneyStocks Reviews you should ever read or trust. Not to mention the past 14 years of verified performance of our Pros, which you can see yourself. But we get down to what will help you see what happens when you are inside, and that comes from members just like you!
Review for Verified Investing Alerts
Review for Verified Investing Alerts
$4,345 to $18,539 in Weeks!
Review for Verified Investing Alerts
Review for Verified Investing Alerts
Game Plan (YouTube) Comments
Review for Verified Investing Alerts
YouTube Members Praise Gareth
Review for Verified Investing Alerts
QUESTIONS, or need help getting started?
CALL our office and speak with us during market hours: 212-380-1578
CHAT with us anytime! Use the chat box on the bottom right of our website >>>