While here at InTheMoneyStocks, everyone knows that we are all about making money and helping our members do the same, for the past 16 years! Today, however, we focus on the bigger picture, the thing that drives up most… giving back and helping those who are in need! 
Gareth's donation towards Children's Education is something he holds near and dear to his heart. When it comes down to it, at the end of the day, his mission in life is to give back… and he wants to use his platforms and influence to help raise money, bringing awareness to another great cause. 
This morning in Gareth's Live Day Trading Room session, he took some time to talk about the charitable donation he made, and spoke to the importance of giving back to those who are in need. 
Upon sharing the link to donate, Gareth was blown away with the support that the Live Day Trading Room members showed, and he couldn't be more grateful for them. 
To those who didn't hesitate to donate, we want to THANK YOU from the bottom of our hearts. We are all so fortunate to be in the position we are today, and for that reason it is important that we help those who are in need. Again, we could not be more thankful to have such an amazing group of members and even more thankful that we are able to come together and help others! That is what everything is all about!
Take a look at the amazing generosity our Live Day Trading Room Members showed today below: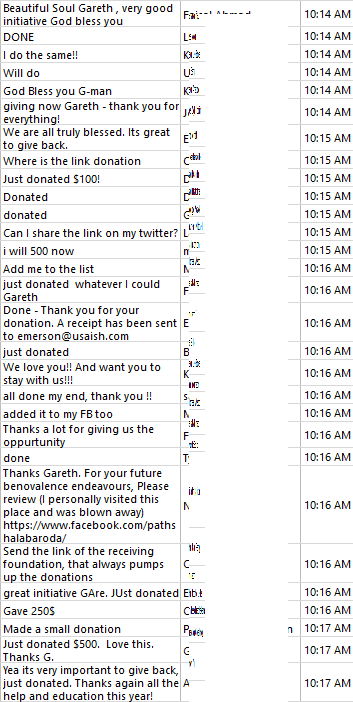 If you are interested in contributing to this cause, please check out the following link for additional information:
Click HERE to find out more/donate, or use the following link: https://www.gofundme.com/f/donate-to-help-childrens-education
If you have any questions at all, feel free to email us at [email protected], or message us using our chat box on our website!