Happy New Year Traders!!
2023 has begun in the same way that 2022 ended… with the Live Day Trading Room members following Gareth live as he buys/sells and BANKING PROFITS with him! (all within the first 45 minutes of the trading day!) 
If you missed the action, here's all you need to know… 
As the market opened for the first time in 2023, Gareth and his Day Traders were in the Live Day Trading Room, ready to go! The action has begun!
THE MARKETS ARE OPEN, WHAT HAPPENED ALREADY!!? 
This morning, Gareth alerted his members live, right in front of their eyes to successfully execute 4 day trades in just the FIRST HOUR of the day!!! This is how you start the year off right!
But we don't need to tell you and WE DON'T NEED TO SELL YOU! All you have to do is LOOK AT WHAT'S BEING SAID IN THE MEMBER COMMENTS taken directly from the Live Day Trading Room, unedited below! They will show you what THEY earned – if you are not in the room right now, this is all you need to see, direct from members just like you!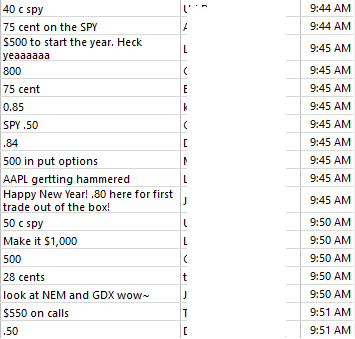 If you aren't yet a member of our Live Day Trading Room, or any of our other flagship trading services such as Gareth's Verified Investing Alerts (for stock swing trades), or Nick's Bullseye Options Alerts, what better time to join and make this new year your most profitable yet! 
Congrats to everyone on an amazing morning with Gareth… now buckle up, this is going to be an amazing year for everyone who is with us!!
Have any questions for us? Contact us here…
If you have any questions at all, feel free to email us at [email protected], or message us using our chat box on our website! Have a great weekend!!