As January comes to a close, we could not be more proud of the GREAT success our Members continue to have! 
There is no denying that this was a ridiculously good start to the year, not much of a surprise for anyone who has followed Gareth or Nick for the past 16 years! Now Gareth wants you to know… he is JUST GETTING STARTED!
Whether it's Verified Investing Alerts (Gareth's flagship service for swing trading stocks), Nick's Bullseye services, or the Live Day Trading Room where they day trade stocks live together; we take pride in knowing that we are helping so many members bank profits, and secure their destiny! That is why we are here!
Even on slower weeks for the market, Gareth and his Live Day Trading Room members are able to BANK big Profits!
But we don't need to tell you and WE DON'T NEED TO SELL YOU! All you have to do is LOOK AT WHAT'S BEING SAID IN THE MEMBER COMMENTS taken directly from the Live Day Trading Room, unedited below! 
While most retail traders were buying the TESLA hype, Gareth and his Member's took a short in the Live Day Trading Room! Look at all the action and profits in just the first couple of minutes of the market open today!!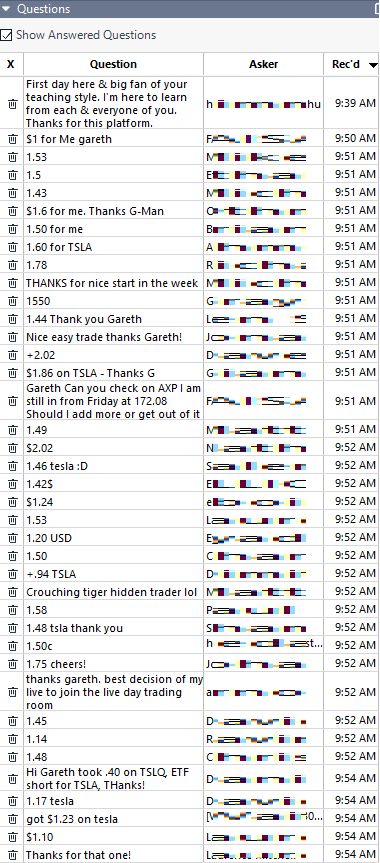 At this point, all we can say is thank you to our members for being active and always bringing their 'A' Game, and to those of you who have not joined us yet, it's time to get InTheMoney with us!!
If you have any questions at all, feel free to email us at [email protected], or message us using our chat box on our website! Have a great weekend!!