Let's just be honest about this… NO ONE ON THE WEB can trade like our Pros, no one has VERIFIED performance that even compares to our Pros. But we don't need to tell you, just look below at the EXACT trade alerts from this morning and yesterday. As you will see, Verified Options Alerts members sold another position which they bought the day before for huge profits! AGAIN, this is all VERIFIED PERFORMANCE FACTS! Just take a look at the trades below and stop wasting time and money, trade with the only real Pros on the web and make money already!
Check out the options trades below…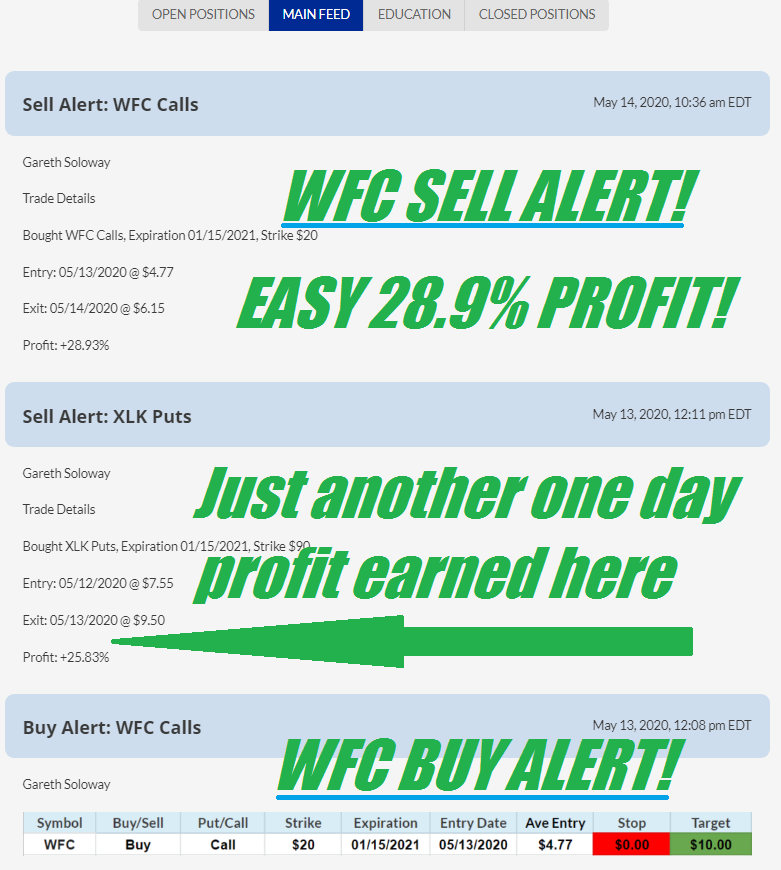 NO SURPRISE! Performance like this comes as no surprise to our members. For the last 13 years Gareth has been killing it, earning VERIFIED PROFITS for his members! Just look at the verified track record of all his trades right here… that does all the talking for us!! If you want to profit like the best, then dismiss the rest and join the best already, they are right here in front of you. Enter the Verified Options Alerts now and get ready to make this your best year ever!
Average Score: 5 (4 ratings)
Great call, making bank on your puts and swings calls that we are taking profits on today

— Michael Koteles (@imman5) May 1, 2020
Slot machine winning sounds coming off my cell phone today with every ITMS sell message…music to my ears

— Mike Staffieri (@Staff_ieri) May 1, 2020
Verified Option Alerts gives you trades. I would estimate about 3 per week. As Master Trader Gareth Soloway buys a contract, he puts it out. This is done quickly and I get the alerts within a minute or so. After being a member for 2.5 months, I have made about 25% on my account. Options are tricky but following someone who knows what they are doing makes it great!