WHAT A MORNING! Congrats to Verified Investing Alerts members, this is going to be a year for the record books! Gareth alerted members to sell two more positions this morning adding to the verified gains! Check out the trades below…
As usual… there is not much more to say when the VERIFIED PERFORMANCE does all the talking for us. Take a look at the trades members of the Verified Investing Alerts sold this morning below and the full track record of every single trade right here. Don't waste another second missing trades like this… enter the Verified Investing Alerts now!
Here are today's trades, click here to see them all…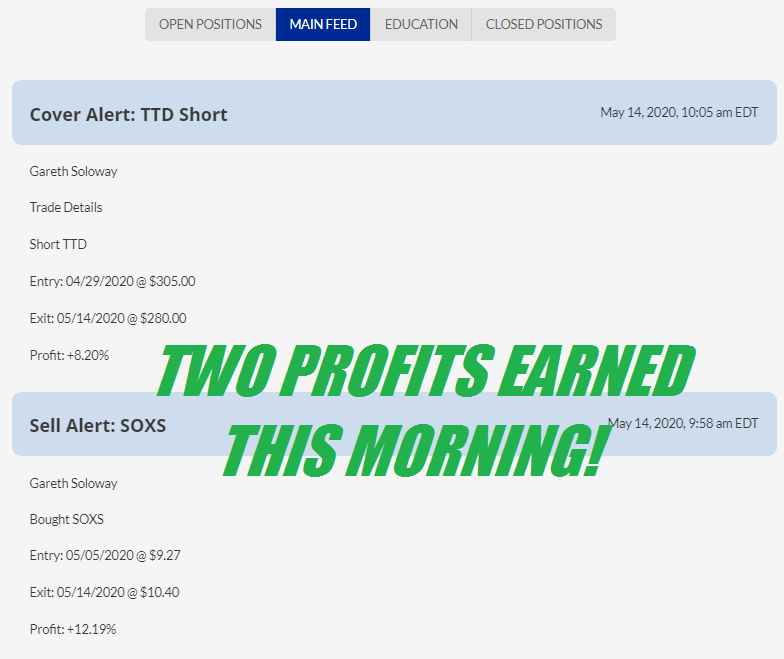 This year is setting up to be one for the record books! If you have not heard about the performance of our Pros over the past 13 years right here at InTheMoneyStocks you must be living under a rock…
Let us just cut through the bull$hit and give you THE FACTS… NO OTHER "trader" service out there can even compare to the performance of our Pros. The sad truth regarding the other services out there is that they do not even trade themselves, yet the call themselves Pros! They spend money on advertising just to get you in and take your money, and on top of it you will most likely lose your investment money too… This is appalling! If you haven't noticed… WE DO NOT ADVERTISE, as a company, WE DO NOT SPEND ONE PENNY ON ADVERTISING! Do you know why? Its simple, the performance does the talking for us. Our Pros have been running this business, guiding members and Hedge Funds all over the world for 13 years, and trading for decades more before that – that is REAL experience worth millions! People come to us because they hear about how their friends and family are making money… then they come and make money too. Its that simple! The only thing we hope for you is that you dismiss the rest and join the best now, don't give those fakes a penny or second of your time!
Speaking of what people are saying, take a look at these comments made by REAL people on twitter about us just last week alone…
(click here to view all of the reviews)
Review for Methodology Revealed Webinar
The Methodology Webinar Is Awsome
Nick, I'm learning here thanks to you and G man . The methodology web is awsome, there is so much info there. Thank you!
Review for Bullseye Trading
Hey Nick. Great Vid on Firday! THank you very much for all your knowledge it is priceless!
Review for Verified Investing Alerts
Review for Verified Investing Alerts